My Kennel.

There is nothing I can call my kennel at the moment. But I want to tell you a history of my Petz, because they are still incredibly precious to me.

My first experience with Petz was in 2008. I hadn't internet connection in this time and I was playing just another computer game which I borrowed from my friend. It was Dogz 5. The game seemed cool and I was spending all my free time with it, inventing stories about my dogs and also inventing some kennels - I had no idea that there are other people in the world who do this, but it came so naturally.

Then, I got internet. I was exploring. I downloaded other game variations. And I discovered communities.
In spring 2009 I created my first online Petz kennel, under the name "Speed Dog". I was breeding various dogs, including terriers, sighthounds and some gundogs. By the time it evolved into simple jack russel terrier and basenji kennel, sitll under the same name. I was breeding jack russel terriers from original PF Magic file because I wanted to get the spotlight into traditional ones, not only edited, and because they were really cute. Basenjis were downloaded from "Abnormality" website, I enjoyed this file a lot because it was my favourite real-life breed in this time.

I was showing my dogs on polish forums. There were a few of them. The most worthy including are in my opinion Petz Forum, SHiR and Petzik.

I created a side-kennel called "Ruda Sfora", where I was breeding hungarian vizslas. I was a judge in some shows. I joined PKC. And I started to experiment with Pet Workshop.

Around 2010 I collaborated with my cousin into another kennel project - this time with Petz 4 sighthounds only, under 'Ekskluzywne Inaczej" name.

I don't have a habit of erasing unnecessary files, so I still own all my creations from these times, but they are on a hard drive I temporarily don't have access to (still hoping to open it anyway, because the hard drive isn't exactly broken, I just can't open it due to lack of proper hardware - the motherboard broke). I was thinking about reactivating my Petz activity. But give me a moment. I don't know if using the same dogs would be good idea - maybe they need their well deserved retirement? Maybe I should start with new stuff? But for now, I don't have kennel as I said.



This was my first Speed Dog logo ("hodowla" means "kennel" in polish).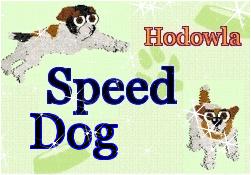 My second logo. Made for me by Tuniskova.





Ruda Sfora image by me.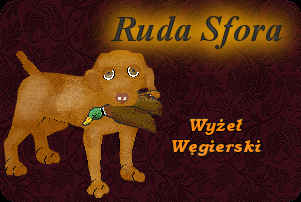 Ekskluzywne Inaczej.